10 Daring Interior Design Trends from Realtor.com
10 Daring Interior Design Trends You'll See Everywhere in 2019 By Heather Donahoe and Rachel Stults | Dec 11, 2018
We'll be the first to admit that it's hard to keep up with the latest and greatest decor trends. Not only are they constantly changing, but views vary wildly: One designer says something's in, while another says it's out. And that's nothing to say of your opinion on the matter.
But if you're seeking inspiration—or heck, maybe you just want to look at some beautiful photos and dream—we've got you covered.
We consulted with dozens of design experts from coast to coast to unveil the biggest decor trends we'll see in 2019. Some have been subtly sneaking into our homes for a while, ready to take center stage. Others are taken straight from the runways in Paris and New York—big, bold, and primed to be integrated in small doses into our spaces.
"2019 is going to be all about mixing it up," says Jim Kabel, owner of Case Design/Remodeling in San Jose, CA. "It's about creating visual interest."
These decor ideas promise to do just that. Striking and memorable—with a bombshell or two in the mix—these top trends are a great place to start your redesign wish list.
1. Artisanal accessories
Photo by Studio Hus
Anything that looks like the work of a detail-obsessed artisan will be right at home in 2019.
Whether it's a handcrafted headboard, a standout chair, or a custom metal-framed mirror, a few artisanal elements will keep things interesting without the pressure to commit an entire space to the look, says designer John Linden of MirrorCoop in Los Angeles.
"This will be the year of the craftsperson," Linden says. "Once upon a time, only bespoke cabinets and other woodwork were widely available. Now, you can find anything from sinks to shower-door hardware to wall decor from really cool vendors."
2. Warm neutrals
Photo by AIBD - American Institute of Building Design We've been slathering rooms in icy, aloof grays for quite a while now. But in 2019, the pros say this neutral's cool edge will thaw a bit.
"I counsel my clients to go with a warm beige or taupe instead," says Diana Blaszkiewicz, an associate at TTR Sotheby's International Realty in Washington DC. "Those are neutrals with classic sensibilities and are a much more elegant choice."
"We're just ready for a warmup all around," echoes Portland, OR, designer Justin Riordan, who predicts we'll see a fresh slate of "fleshier, pink-ier" naturals in the coming year.
3. All shades of pink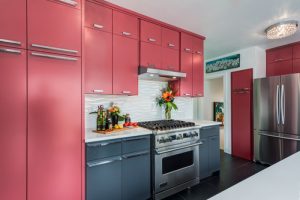 Photo by Kon-strux Developments Speaking of pink, the flowery hue is still decidedly in the moment.
You'll continue to see the pale "millennial" variety, of course. But get comfortable with her bolder raspberry-toned sister making a statement, says designer Bethany Adams of Bethany Adams Interiors in Louisville, KY.
In fact, Adams thinks the audacious shade will be right at home even in a prominent spot—like your kitchen cabinets.
On your walls, however, expect a less pink pink—it'll be all about those peach tones.
"This shade is surprisingly versatile, pairing well with mustard, orange, or even dark green," she says.
4. Tweed
Photo by Greenauer Design Group
Think of tweed as the textural antidote to the moody velvets we've been seeing for the past few years. (Don't get us wrong—velvet can pack a sophisticated punch; but, as Blaszkiewicz says, "sometimes it can seem stuffy.")
Design gurus envision a star turn for tweed, a tightly woven wool which shares velvet's impact but isn't quite as extra.
"They're similarly rich and 'expensive'-feeling without being costumey," Blaszkiewicz says. "And tweeds play well with velvet and other fabrics, so you can mix and match pieces easily."
5. Terrazzo
Photo by Twist Tours Photography Made from a mix of glass, granite, marble, or quartz chips suspended in a polished cement or resin, this midcentury mainstay was once the de facto flooring option in schools, hospitals, and airports, thanks to its durability and thrifty price tag.
But these days, terrazzo has reemerged as a retro-luxe choice, popping up in every room of the house, Linden says. Larger patterns in a slew of shades give this throwback a fresh feel on everything from coffee tables to shower walls.
"Terrazzo is going to be huge," Linden says. "I guarantee more people will look to include it in their projects."
6. Contrasting tile and colored grout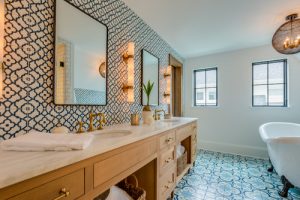 Photo by Kurt Baum Architects You've probably already noticed intricate tiles—Moroccan, herringbone, and other geometrics—swooping in to take the place of ubiquitous white subway tile. But Blaszkiewicz predicts tile will get even more interesting in 2019: Expect to see colored grout and contrasting tile on the walls and floor.
"Like wallpaper, [tile] is an easy way to create a focal point in the room," she says, recommending dark tiles with light grout and vice versa—for a punch of dimension and texture. Aiming for a more monochromatic vibe? Just sync the tile and grout to match.
"It's a thoughtful detail that can really make a bathroom look more expensive," she says.
7. Black kitchens
Photo by Hurst Design Build Remodeling The all-white kitchen has been singing its swan song for the past couple of years and, as such, we've been slowly adding color back in. In 2019, designers say we'll rip off the Band-Aid and embrace the white kitchen's alter ego.
"Black kitchens especially are proving popular," says Marina Cheban of Cheban Interiors in New York City. She says they help impart a "sleek, rich feel and modern ambiance."
It's a risky choice, yes, but one Cheban says her clients are willing to take. Think: Dark or black wood tones for the cabinetry, paired with gold hardware and lighting, white countertops, and light wood flooring. It makes for "the perfect combination of modern and organic."
8. Curvy furniture
Photo by Emerald Coast Real Estate Photography Hectic schedules plus nonstop technology have made the simple act of sitting down to talk to one another a lost art. But we want the intimacy back, says Karen Wolf, creative principal at Karen B Wolf Interiors in New Jersey. So we're seeing sofas, settees, and chairs become more curvaceous, she says.
"Gone are the days of big, boxy sofas—granted, they will always have a place in an oversized room or basement," Wolf says. But more and more those looks are being replaced by curvier forms, which in the past were used primarily in formal (and uncomfortable) living rooms.
"Today, the curved sofa and chair have maintained their elegance but added comfort—which is key," Wolf says.
9. A new crop of florals
Photo by Chango & Co. There's a theory in the interior design world that what we see on the fashion runways in spring and fall will dictate what appears in our home decor the following year. And this year, Paris and New York were all about florals.
"Floral patterns will take root and show up in stores on bedding, pillows, chairs, and wallpaper, whether you're ready for them or not," says Jill Hosking-Cartland, owner of Hosking Interiors in Windham, NH.
But we're not talking about Grandma's dated floral prints. Today's blooms are also big, bold, and often abstract, offering up larger-than-life interpretations of a flower, Hosking-Cartland says. If you're ready for a break from chevron, trellis, and geometric patterns, this trend could be for you.
10. Dog showers
Photo by Peter A. Sellar - Architectural Photographer The best for last: Expect 2019 to go to the dogs—in the cutest way possible.
"I am seeing a trend toward dog showers, usually in the vicinity of the mudroom," says New Jersey designer Linda Wagner. "The ability to walk your dog into a wet space and clean them up is a quick and easy solution."
A dog shower doesn't require much square footage, and doors are unnecessary. But if you're feeling ambitious, you can decorate with lively tiles.
"Since dogs are our family members, I think this is a trend we'll see more of," Wagner says.
Rachel Stults contributed to this story.
https://www.realtor.com/advice/home-improvement/2019-hottest-interior-design-trends/
The realtor.com® editorial team highlights a curated selection of product recommendations for your consideration; clicking a link to the retailer that sells the product may earn us a commission.
Tags