Cabinet Trends for 2020
Hurst Designer, and NKBA Cabinet Specialist, Catherine Kiczek on 2020 Trends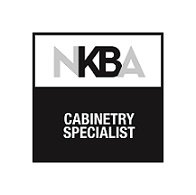 Thinking of redesigning your kitchen? Are you worried it will look dated in 5-10 years? Here's a guide to making the right choices for you, your family, and your home.
1).Find Inspiration:
Have a friend whose kitchen you love? Did you see a picture online or in a magazine? Show that to your designer to help determine your style. Maybe you really like a bright white kitchen with white cabinets and white subway tile, or maybe you are drawn to more traditional styles and stained wood cabinets. Perhaps a more contemporary or industrial kitchen suits your style, the right style is the style you love and will function best for you and your family. There are so many options, but the right option is the one that works for you and fits with your home. Current trends are clean and minimal, with just the right amount of detail.
2). Painted Cabinets vs. Stained:
This is a personal choice however there is no wrong answer. Painted cabinets can be timeless & beautiful; they make a kitchen feel large and open. Stained cabinets are also stunning. One thing to consider is the millwork in your home. Are your baseboards painted or stained? Do you plan on changing them? What type of flooring do you have, are you planning to keep it or replace it? All of these items need to be taken into consideration when selecting cabinet finishes. Your designer will steer you away from anything that will fight with your existing finishes if you are planning to keep them. If you are planning to change them, more options will be available to you.  Current trends are cooler paint colors, cool light beige, shades of white, and medium brown stains.
3). Countertops:
Countertops unite a kitchen, and they bounce light around your room. The trend I'm noticing is that light countertops seem to be more popular than dark countertops. As for the material, quartz and granite are still very popular. Quartz that resembles marble and different textures of quartz, like suede or matte finishes are also very popular.
4). Tile Backsplash:
The perfect backsplash will compliment the entire kitchen. It will balance the space. The size of the tile should depend on the amount of space you are covering. Subway tile is 3" x 6" which works for almost every space and comes in a variety of colors and textures. If you have high ceilings or lots of exposed wall space, a 3" x 12" or 4" x 8" tile may work better for you. Patterns & textures are very on trend right now. We are seeing bright colors and bold combinations. The right backsplash for your kitchen will depend heavily on the other items you have selected and your individual taste.
With any remodeling project, there are many decisions to be made. Having the right designer will make this process enjoyable for you and produce results you never imagined.
Tags