Custom Carpentry Work for Distinctive Homes
At Hurst we believe a home should be a reflection of the people that live there. Many of our clients understand the value of having design elements that are completely unique to their home alone. Hurst Remodeling can help clients express their personal style by designing and building distinctive custom elements such as cabinetry, woodwork, barn doors, mantels, and much more for many of our projects.
Perhaps a client is looking for a custom storage solution for a back hall, a built in entertainment center, or custom bar that incorporates unique building materials. Hurst can work with clients to create something truly unique. We are often asked to use materials that have sentimental value for the homeowner. This unique offering allows Hurst to address challenges in a home and create unique and beautiful elements. Our talented craftsmen love the opportunity to design and build something completely unique.
We try to find that special element for each project. We start by listening. We help discover your personal style and how you like to live and entertain. Our designers can garner inspiration from these initial conversations and often they incorporate an idea into the design that is completely unique.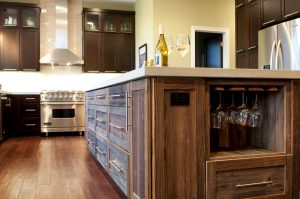 Barn Wood Kitchen Island
This Westlake client was looking for a dramatic kitchen remodel. Their dated, white cabinets and busy wallpapered walls were not a fit with the new homeowners' style. They selected Hurst to design the large new kitchen. The space was calling for something really special to reflect the client's unique eclectic style. The new kitchen design was enhanced by a custom-built oversized island made of reclaimed barn wood. The reclaimed wood used for cabinetry, barn style doors, or even flooring adds character and warmth to any room. The custom island featured modern cabinet and drawer pulls, a wine refrigerator, and a storage area for wine glasses with a modern flair to tie all of the unique design elements together. This "wow" kitchen now had an even better story to tell with its one of a kind dramatic custom island.
Custom Patio Trusses
When a Sagamore Hill's client was looking for a unique outdoor space with a rustic vibe they turned to Hurst to design and build something special. The home had a beautiful wooded lot that called for a rustic and substantial patio structure. We used large wooden trusses and metal detailing to set the right tone. This unique space is beautiful and great for entertaining or just enjoying a quiet place to take in the view.
Bringing the Outdoors In
When this Beachwood client told Hurst about her love of the outdoors and her desire to be surrounded by nature both inside and outside her home, we knew we needed a unique design approach. We were able to incorporate the client's ideas with those of our design team to create a unique space that was a reflection of the client's passion and style. The master bathroom featured river rock tile built into the shower, tub surround, and counters. The cabinetry was custom built by Hurst from reclaimed barn wood and featured metal pulls that look like branches and twigs. Real branches and twigs from the homeowners' property were used as a decorative feature above the mirrors incorporated with the rustic lighting. A peaceful sitting room and master bedroom featured custom-built rustic wooden doors and took advantage of the great views of the backyard.
Custom Designed and Built in our Shop
When clients are looking for something that is unique to their home, Hurst can design and create custom solutions. From kitchen cabinets, to outdoor spaces, custom shelving, audio visual solutions to practically anything a client can come up with, Hurst can design and build beautifully unique elements.
Our design staff and carpenters work together in our offices to create a plan which is then custom-built right here in our on-site workshop. On any given day you can find our talented team members working on any number of custom projects. If you are looking to add something totally unique to your home remodeling project, the Hurst Design-Build team can work with you to find the inspiration and create something beautiful and distinctive.
Tags