Get Your Home Back-to-School Ready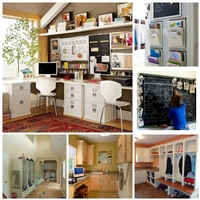 Can a home remodeler help get your home ready for back to school?  Many Northeast Ohio schools are back in session this week. The classrooms are ready; the kids are not, but what about your home? What stresses us out more than anything else is wasting precious moments looking for books, shoes, permission slips and everything else we need to get our kids out the door.
Whether your home is 1000 square feet or 4000 square feet, so many of us share the goal of getting and staying organized to make school days less stressful. Hurst Design-Build-Remodeling has a few organizing ideas to help you get your home in back-to-school shape.
"A place for everything and everything in its place." While this is not a new concept it is the most important rule of thumb to follow to avoid hectic morning and afterschool hours.
Reevaluate Your Space:  What do the mudroom, back hall, and garage look like? Is there room for shelving, more hooks, shoe racks? Is there enough space for each pair of kid's shoes? Is there a hook for each backpack? What about sweatshirts and coats? Sports bags and water bottles? Take the saying literally and create a space for every item coming and going from school.
Be sure to plan ahead for additional items kids will need when the weather turns. Sorry to say, we will need rain boots, umbrellas, snow boots, hats and gloves way too soon. Maybe a small coat closet can be outfitted with several rows of shoe racks, glove baskets, and hooks. If you don't have a large mudroom or pantry, what about dedicating an armoire in the living room or a painted dresser in the front hall with a drawer for each child's books and supplies? Get creative with the space you have and make it work to fit your needs.
If you are lucky enough to have a pantry, reserve a shelf for breakfast items and lunches. This makes it obvious when you are running low and helps kids learn to pack their own lunches or grab something on their own for breakfast. You can also dedicate pantry shelves to school supplies. By adding decorative baskets, the kids can easily find pencils, rulers, calculators, notebook paper, glue, computer paper, ink, and other school supplies all in one place saving time and eliminating homework hour frustration.
Add a Homework Nook: When children are doing homework at the kitchen table they need to stop and clean up as soon as it's time to set the table. Having a dedicated homework spot helps keep the kid's work and supplies organized and in one place. Ideally it would be a separate room, but even a desk in the corner of the family room can work nicely. Kids frequently need help with homework so keeping the desk on the main living floor enables parents to oversee homework while getting dinner started.
Paperwork and Calendar: Don't forget paperwork. Schools send home forms and permission slips on a daily basis. Find a special spot for school paper work so it doesn't get lost and forgotten in the family mail pile. A mail organizer by the back door is a good reminder of what needs to be signed and returned.
A family calendar is a must in most houses. With blackboard paint you can make your own blackboard almost anywhere.  To add design element you can add framing with painted decorative molding or reclaimed barn wood.
The blackboard can also be used to post a daily checklist. Kids can review the list each morning before they leave. Did you brush your teeth, pack a lunch, and plan for after school activities? The hope is that the parents can quit nagging and the kids can be responsible for all of the items on the checklist.
While it may take some work and creativity to get this plan in place, it will be worth the effort as a daily time-saver and stress buster.
Tags