Hurst Named to Top Workplaces 2020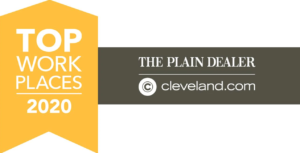 We are so proud to have been named to the 2020 Top Workplaces list.  In fact, we were 15th out of 100 small businesses named to the list and 175 total companies recognized. 
As the Plain Dealer article noted, a common theme with this year's Top Workplace winners was:   "Treat your employees with respect, set your goals and get everyone to buy into them.
That results in happy customers -- and company success."
For the 2020 Top Workplaces list, cleveland.com and the Plain Dealer have compiled a record 175 Northeast Ohio employers, based on employee surveys. 
All of Hurst's 35 employees participated in the survey which looked at all areas including leadership, company culture, feeling appreciated, and shared values within the organization.  "We could not be more proud to be named to this list in 2020, said Pat Hurst. "It's one thing to believe Hurst is a great place to work, but it is very rewarding as a small business owner to have that confirmed by our team."
"We are growing and bringing on new people to join our team and we are working hard to maintain the family atmosphere we have always valued. We have great appreciation for our team and the quality of their work.  We work hard, we are constantly striving to improve each day through training and innovation, and we try to take the time to celebrate our successes together," added Dan Hurst.
When the list was announced in June we gathered (socially distanced) to thank everyone for their continued hard work and dedication to each other and our clients. 
Tags