Is This The Right Time To Remodel?
How we can use this time to make our home a more functional and beautiful place.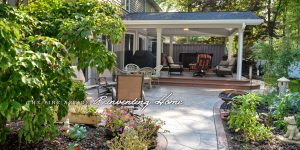 If you have ever dreamed of remodeling your home (and who hasn't) you might be surprised to learn that this could be an ideal time to make that dream a reality. In a time of a crisis remodeling might be the last thing on the minds of most, but the unprecedented stay-at-home orders have opened up an opportunity to many. There are a few compelling reasons for people to consider a home remodel or at least getting the design and planning process underway.
The first reason why this might be a good time to take the next step is that we are spending a lot more time at home and maybe you've noticed that its not looking so good. You may find yourself noticing some peeling paint, worn out cabinets, out of date tile and a million other things you never noticed before. Or maybe you are wishing you had created a home gym or an amazing finished basement before this point in time or that you had the kind of back yard that would be great for a party when the clouds of this crisis finally lift.
The second reason you might take some time to think about is the calendar. If you have called a really good residential remodeler in the past several years you know that your project can't happen over night. The best remodelers have been in high demand in the past several years. Even to get the first consultation underway and the design process started the wait can be weeks if not months. And after the design and estimating are complete, products need to be ordered and a construction start date set.
You could be looking at next summer for a project you would like done this summer. But things have changed in the remodeling industry lately. If you want to get your project in the queue, there is no time like the present. Remodelers may have clients who have put their projects on hold creating openings in their schedules that were recently booked solid.
The third reason why there is no time like the present to make this happen is that decision makers are together. A remodel requires a lot of decision making. You need to establish goals for any project, how much you want to spend to get what you want, design decisions, material selections and countless other choices along the way. Having time at home and with your family makes this an ideal time to sort out all the project details. Rather than this being a stressful task you are trying to squeeze into your busy days, you can take the time to enjoy making decisions together that will help your project be a big success.
And finally there is no doubt we could all use a good distraction; a project we can look forward to enjoying down the road can be an excellent distraction. For remodeling enthusiasts there is always a beautiful new project to plan and it is nice to have some time to dream.
Even in these days of social distancing, remodeling projects can move forward. Meetings can be done remotely to keep clients and remodelers safe. The entire design process can be handled through virtual meetings, sharing Ideabooks and providing material samples for selections safely. Products like custom cabinetry, appliances, and other items that may take some time to order and ship can be ordered to be ready when your project is ready to start.
We know the current situation is dramatically different for every family and the level of stress is disproportionate to some families. For some, remodeling is a luxury but we know that it can also be a necessity for others. Those who are in need of a working kitchen, an in-law suite, or an updated bathroom to accommodate a family's changing needs may look at it as a 'must-do' not just a 'want-to-do'. Whatever your motivation for a home remodeling project, now may very well be the ideal time to get started.
Most importantly - thank you to all the front line workers who are caring for others at hospitals and nursing homes, stocking the store shelves, driving the trucks, still fixing our plumbing and keeping the world safe through these unprecedented times. We know we have the benefit of staying home, staying safe and dreaming of brighter days because of you. You have our abundant gratitude.
Tags