Is Your Front Porch Ready For The Holidays?
Front Porch Renovations and Decorating Ideas for The Holidays
You don't need to take on a full exterior remodel to dramatically improve your home's curb appeal. If you have a limited home renovation budget or limited time to update your home, you can consider starting with a smaller remodeling project. Why not focus on the first thing your friends and neighbors will see when they stop by? A beautiful front porch or stylish new front door can be the most impactful upgrades you can make to your home. And with the holiday season upon us, it's not too late to make a striking first impression.
A New Front Door Makes a Striking First Impression!
Your home's front door is like the cover of a book. It's an invitation that tells guests a little bit about what's to come. There is no better time to update your home's front door and front porch than for the holiday season.  For many of us the holidays begin with Halloween.
Before you add seasonal decorations. Take the time to evaluate your current front door and porch. Could the space use a power washing?  How about a fresh coat of paint? Some new door hardware or address numbers add instant curb appeal.  Or you may want to replace your current front door all together.  There is no end to door styles on the market today. And adding a new door and door style would be very impactful exterior renovation.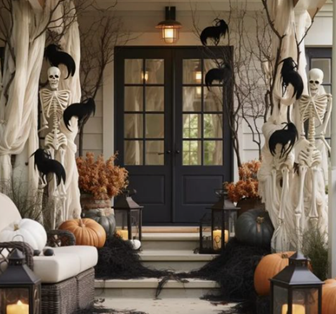 Many homeowners are making the switch from single to double front doors for an even bigger impact. Sometimes the only added space needed for this improvement is eliminating sidelights. Glass and iron front doors and double front doors are what our designers are selecting for many clients. It's always a good idea to consult a professional designer on such an important decision to ensure you are complimenting your home's existing style and architecture.
A Front Porch for Added Outdoor Living and Entertaining!
If you have a little more of a budget to work with, adding a new front porch or covered entranceway can add significant value to your home and create a beautiful and welcoming addition. Homeowners should start by deciding how they plan to use the space. Is it a place to welcome guests or just a cover to keep the front door safe from the weather? Would you like to increase your outdoor living and entertaining space?
By building a porch with enough room for furniture you can create a relaxing spot to watch kids in the front yard or visit with friends and neighbors. Home remodelers and designers can offer a variety of ideas and options to make the space attractive and unique. From updated siding, railings, columns, roofing selections, to updated outdoor lighting you can add so much style and functionality to an outdoor living space.
Do you want space for outdoor couches with cushions, a porch swing, a row of rocking chairs or maybe a few Adirondack chairs and side tables?
Don't forget about your sidewalks and steps, adding a paver sidewalk or sidewalk border can really make the walk to the front door special. Line the walkway with landscape lights for safety and style.
Once all the new pieces are in place don't forget to give the landscaping around the front entrance a nice clean up while the weather still allows. Trim bushes and add landscape lighting along the front walk to make the welcome warm and inviting.
Time to Decorate!
Now that you've got the porch, front door, and sidewalk looking their best, now it's time to decorate!!
Pumpkins, gourds, and mums are fall staples. Try an updated elegant look with lighter colors and white and green pumpkins and mums to line your walkway. 
Add lanterns up the walkway with flameless candles. Black lanterns are great for the front porch year-round but especially when they are stylized for Halloween or Christmas.
Here are some photos our design team selected to provide you with beautiful front porch ideas and decorations for Halloween.
Black and white is always classic and attention getting. You can paint or stencil pumpkins for a striking display.
A traditional front porch with wood and glass front door and a beautiful porch swing. The mums and pumpkins give a warm welcome and add color to the clean white porch.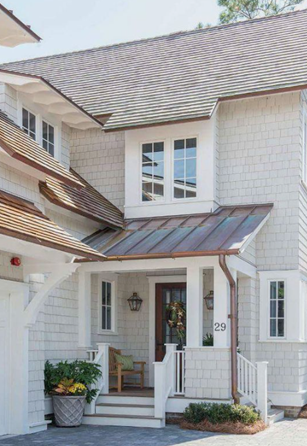 Copper roofing and down spouts bring so much charm to this side porch. With the wood and glass door, a traditional style wooden bench, and shingle siding all working together to create a stylish welcoming side entranceway.
Modern address numbers, lanterns, beautiful wood and glass front doors, and metal roofing make this simple front porch extra special.
This gorgeous arched front door features a copper awning roof. The lanterns are dramatic, and the simple black bats and light-colored pumpkins and gourds make this one of our favorites.  The large paver walkway adds so much visual interest.
Whether it's getting ready for Halloween trick or treaters, Thanksgiving or Christmas guests. We all get excited to decorate for the holidays. It's a great time of year to get your home looking its best on any budget. Just get creative or hop on the internet for endless inspiration from all the talented designers and home enthusiasts out there making their homes unique and beautiful.
Tags