Pat Hurst Earns NARI Green Professional Certification
"NARI certification is a challenging process, requiring extensive knowledge of the industry and a commitment to professional conduct. Even highly experienced and skilled remodelers find the screening and testing process formidable."--NARI
Congratulations to Pat Hurst, Co-owner and Project Consultant at Hurst Design-Build-Remodeling: he has just been awarded Green Certified Professional status by NARI, the National Association of the Remodeling Industry. Pat earned the new designation after taking a continuing education course in green remodeling practice, passing a day-long test, and meeting the rest of the requirements as listed by NARI.
"Hurst DBR has been using 'green' practices for quite a while now," said Pat, "that's why it was important to me to get certified. We wanted our clients to know that we take it seriously, and that we truly have the knowledge to build responsibly and sustainably."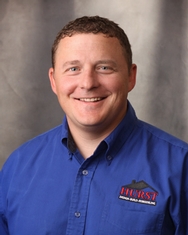 The Green certification from NARI recognizes remodeling professionals who "consider energy efficiency, sustainability and maximizing nature's resources and energy in an efficient and responsible manner, both in the conduct of their business and in design and construction of a client's remodeling project." ("Who are NARI Certified Professionals?")
In addition to this new Green Certification, Pat was certified almost ten years ago as a Certified Remodeler, a professional designated by NARI as having the required knowledge and experience to provide a full range of remodeling services as well as a broad range of business management and technical skills.
This new certification underscores Hurst Design-Build-Remodeling's position as a leading remodeler in the Cleveland area: they are the firm with the most NARI certified professionals in Northeast Ohio."The National Association of the Remodeling Industry (NARI) is the only national association dedicated solely to the remodeling industry. NARI's focus is on professional conduct, continuing education and training, and fair and ethical treatment within the home improvement industry. NARI certification of professional remodeling contractors serves as the association's recognition of remodeling professionals who have met stringent criteria for experience and pledged a commitment to the highest standards of practice and to NARI's Code of Ethics." (NARI website) To learn more about NARI and its certifications, please click here.
Tags