Planning an Outdoor Living Space or Basement Remodel for Game Day Entertaining
Football Season is the Greatest Season of All
Whether you love the game or just love having an excuse to get together with friends and family, fall football weekends cannot be beat.
Some people love the pre-game tailgate, being there for the live action, and taking it all in from the stands. For others it's being at home watching the game on TV with all their friends and family and all their favorite football game-day food, drinks, and traditions that makes being a fan so fun. Whether it is the NFL or College Saturdays, if you love football, you love this time of year!
For some football fans the perfect watch party is on the porch or patio; for others it's the basement or as some like to call it, the 'Man Cave!' Wherever you like to watch, or host, here are a few ideas to inspire you for the upcoming season. It doesn't take a major home remodel to create a great space for the big game. Some of the ideas you will read about here will be big ideas for a full-scale renovation, but some are smaller projects you can tackle yourself.
As home remodelers we talk with a lot of football fans about their ultimate big game viewing space. And while we have all seen the basics, some type of a bar area, sports memorabilia on the walls, and a place to kick back with your friends, we like to take gameday to the next level. We love to make each space truly unique, with functionality to suit individual wish lists, and always to keep the style elevated!
Working with an experienced designer will help you space plan with purpose. Asking the right questions about how you entertain for example, what type of cooking will be happening in the space, how many guests do you want to be able to accommodate comfortably. Getting as much information as possible will help kick off the project on the right foot.  Asking all the right questions, creating well thought out plans, providing layouts and 3D design renderings will help you to envision your finished project down to the smallest detail. And because basements and backyards can offer some unique challenges, professional remodelers can also advise homeowners on weather resistant and proven quality materials from stone to tile, to appliances, flooring, interior and exterior lighting, cabinetry, countertops, plumbing, hardware and beyond.
Let's think about what a great gameday or weekend hangout space might look like for you, hopefully some of these recent Hurst renovations will provide some inspiration.
Outdoor Kitchen Design for Gameday Food Prep
Let's face it, gameday food is almost as important as the game itself.  No one wants to be inside cooking and missing a play, so having a plan to get things done ahead of time or having the kitchen in the right location is the key.  This incredible outdoor living space includes an outdoor kitchen located in the heart of the action featuring a massive gas grill, Big Green Egg smoker, and a side burner for large pots of chili or even a fall fish boil. The outdoor entertaining area also features a prep sink and tons of counter space for serving dishes.  The outdoor sink can double as a drink cooler and the indoor bar area is within steps of the patio. The covered area features a wood-burning fireplace, a large outdoor television, comfortable outdoor seating and dining areas.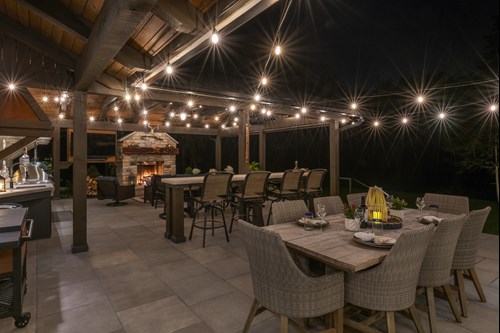 This custom home project also features an uncovered dining area on the patio to enjoy dining under blue skies or starry nights.
Outdoor Living Rooms
The options for great outdoor viewing spaces are endless - televisions mounted over an outdoor fireplace, or behind the bar, near the outdoor kitchen, or having an outdoor projector with big screen can all make backyard gamedays or movie nights the best seat in the house. Whether it is your patio or your pool house, if you want to hang an outdoor TV the two main concerns are weather and sun glare. Some outdoor televisions are made to handle both, but if your patio is a covered space protected from the elements and not affected by the sun, you can get away with hanging a less expensive indoor television, however the sets created specifically for the outdoors will definitely hold up better in all types of weather. Avoid facing the TV to the south to avoid glare and use a swivel mount if you want to have the ability to adjust the angle depending on seating locations and sun glare.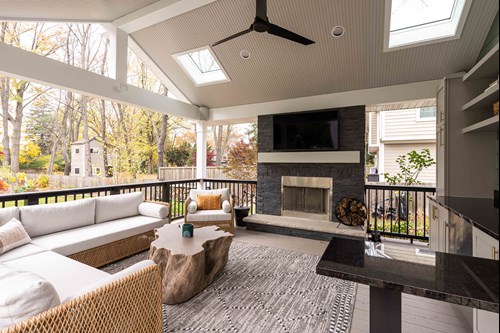 This covered patio with composite decking features a stone fireplace, custom cabinetry, and large skylights to bring in the sun and the stars, outdoor refrigerator, and granite counters for serving and dining.
This outdoor living space features a beautiful wood-burning stone fireplace, rustic beams and ceilings, along with a large television for gameday or movie nights.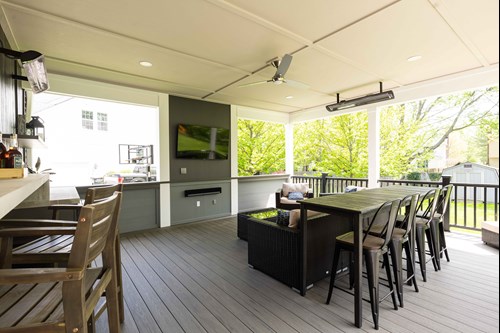 In this covered patio project, we created a pass-through window from the kitchen to counter area. Which keeps all the amenities of the kitchen within arm's reach of the patio. The design also allowed for room behind the couch for table and chairs for extra gameday seating and dining spaces. The ceiling mounted heaters and fan keep things comfortable.
This beautiful covered patio project features retractable screens to keep the bugs and critters out during fall nights. 
Extending the Season
Outdoor heaters and fireplaces are key to extending the season, which is especially important if your team goes deep into the playoffs. There are multiple options from wood-burning, electric, or gas fireplaces. Homeowners can opt for gas or electric heaters that can be mounted to the ceiling or portable heaters and fire pits that run on propane and can be moved as needed. The key to any outdoor heating element is working with a professional remodeler for safe installation and following all the manufacturer's safety instructions.
Built in cabinetry.
Indoors or out, adding custom cabinetry to any remodel takes the design to a whole new level. An outdoor living room can feel more like a cozy indoor room with a wall of cabinets that provide storage and counterspace for serving. 
This outdoor cabinetry is tucked underneath the covered patio to protect from the Midwest weather extremes.
Gameday Ready Basements
If you prefer to host football watch parties in your finished basement, the design options are endless. Theater style seating takes a basement remodeling project to the next level. Theater style reclining seats, lighted aisleways, and surround sound make these spaces great for movie night and game night alike.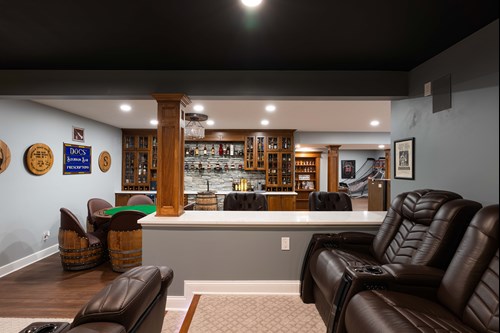 In this recently remodeled basement, which was featured in Cleveland Magazine, the home theater is open to the basement bar area on one wall to offer way more seating and viewing options than if the theater had been closed off.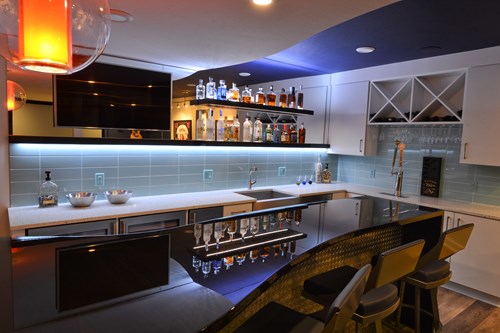 This basement renovation features a raised platform for game day viewing, a sculptured ceiling for an elevated one-of-a-kind design, a projection television, and custom designed bar area.
Pull up a stool!
Even if you don't have multiple levels, you can still offer multi-level seating. Low couches in the first row in front of the TV and tall bar seating in the row behind. If you don't have room for a full bar area, adding counters mounted to a wall area offers a lot of additional seating and a place to set out food and drinks for a crowd.
Framing televisions with custom cabinetry, stone accent walls, and shelving gives the space a finished look.
Brick accent walls bring some old-world charm to this modern space. The basement renovation above also features a cleverly located wine room under the basement stairs.
Home Brewery and Wine Rooms
If you are true beer lover, you may want to add in a home brewery like the project above. This homeowner worked with us to turn a plain drywalled basement into a space that rivals the best pubs. Tin and wood coffered ceilings, stone walls and commercial grade bar refrigerators in the bar area, and a full-scale home brewery that features slanted stone floors and drains for functionality.
Keep This Chill
It goes without saying that cold drinks are a must have for any awesome watch party. Many of our basement and outdoor living remodeling projects feature extra counter height refrigerators and under counter ice makers. Basement bars and kitchens often feature full size refrigerator freezers which are great for entertaining and storage.  Pair that with insulated buckets and trough sinks that can be filled with ice and used to keep bottles cool and easy to access for guests.  Don't forget the wine drinkers. A great bar is not complete without a wine fridge or even a custom wine room.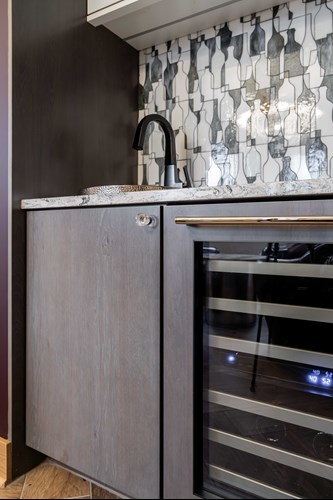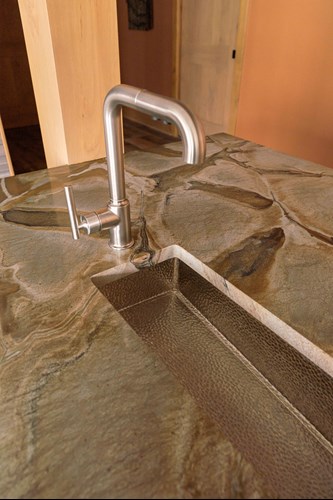 Multiple Viewing Locations
It's always a good idea to consider creating multiple viewing locations if you have the space. Also, many sports fans like to check multiple games and even go to great lengths to see what's happening all over the league with a wall of TV's to rival a Vegas sportsbook. On a smaller scale if you have the space, you can add another TV behind the bar so no matter where you are sitting you never miss a play.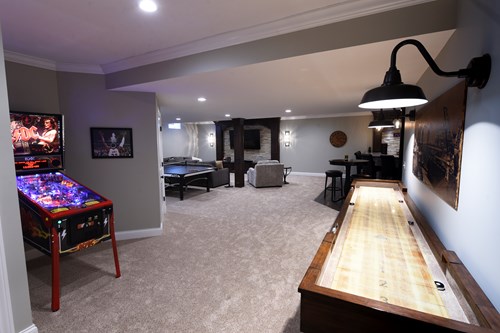 Design In Some Fun!
It's always a great idea to add some fun elements to the basement design like a pool table or ping pong or shuffleboard table. There are so many high-design game tables now that really add interest and fun to the space.  And a few friendly games during commercials or halftime makes the watch party nonstop fun! Incorporating games in the initial design ensures you have the needed wall space and lighting and that there is enough floor space for all the fun.
If your gameday plans include hosting the watch party indoors or out, we hope some of our recent projects have helped provide a little inspiration.
Tags