The Importance of Checking References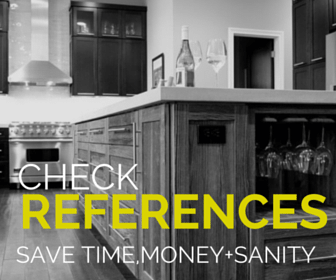 Checking References is one of the most important steps to a great remodeling experience.
Design is subjective. However, quality, trust, great service, and deadlines are not. If you have never remodeled before you may not even know what questions you should be asking. There is so much more to home remodeling than taking an outdated space and making it beautiful. Clients come to Hurst looking for a beautifully designed kitchen, bath, addition or basement, but it's the quality of the service they receive that inspires them to provide references on our behalf. So whether you are Considering Hurst Design-Build Remodel or one of our competitors we encourage you to thoroughly check references.
Here are a few important areas to consider when you are starting your search for a great remodeler. Ask the remodeler these questions, but ask their past clients these questions as well. You can learn so much more when you ask detailed questions.
The most important questions to ask before you hire a remodeler.
• Communication – Honest, open communication is the key to a successful project. How often will the remodeler be in touch with you? How quickly will your questions be answered? How polite are the team members?
• Timeliness – Did the sales representative show up on time? If anything changed in the schedule, did they communicate in a timely manner? Will the remodeler share the project schedule with you? Will they provide you with an expected completion date?
• Neatness – There's a reason remodelers wear boots; it can be a dirty job. While homeowners can expect some inconveniences during the process they should expect crews to keep things as neat and clean as possible, to respect you and your home, and clean up at the end of each work day. Ask which type of dust protection best practices the remodeler will use.
• Trust – A high quality remodeling project requires an entire team of skilled men and women to be in your home at various times. Who are these people? Are they employees of the remodeling firm and trusted subcontractors? Does the remodeling firm have a long standing reputation in the community? Asking for references and making sure each team member and sub contractor has a good track record is the place to start.
• Subcontractors – Find out what role subcontractors will play in the process. Find out how long the remodeling company has worked with each subcontractor
• Detail – Good remodeling is all in the details. From estimating the project to the finishing details on each and every project – a company that cares about every detail along the way can ensure positive outcomes. Does the remodeling firm have proven systems and process that they use?
• Challenges – There are very few flawless remodeling projects, but the best remodeling companies prepare clients for potential challenges and remedy them with timely, effective solutions. Does the remodeler demonstrate the ability to do this? If and when a challenge arises, how will they handle it?
• Insurance – A good remodeler will have really good insurance, if not the liability can fall on the homeowner for damages or injuries. Make sure you know what is covered and what is not. Does the remodeler have general liability insurance and are their employees covered by workers compensation? (Ohio law requires all employees be covered by workers compensation insurance and we recommend at least a 1 million dollar general liability policy for most remodeling projects)
• Follow Up & Warranty - Look for a company that will be there for you after the project is completed. What type of warranty program do they have in place? How quickly and effectively will they address any issues?
By sitting down with potential contractors and reviewing these questions you can get a great sense of how they do business. But don't just take their word for it; talk with the people that have worked with them lately. When checking references, ask these detailed questions. There is a lot of time, money and effort that goes into a remodeling project; it is well worth the effort to do your homework so you end up with the best contractor to meet your project needs.
Top design-build firms will encourage you to check their references.
Don't just ask for one or two names, and don't just read the testimonials the company publishes on their own website, look online for reviews or ratings such as HOUZZ.com, Better Business Bureau, or Guild Quality where home remodeling companies have no control of the client's comments or ratings given. Selecting a home remodeler is a big decision. Getting it right can mean a stress free experience with beautiful results. Getting it wrong can be costly and very stressful. Doing your homework and checking references upfront can save you time and money, and spare you a lot of frustration.
Tags