Project Summary:
This contemporary multi-level split home constructed in 1956, was designed by famed architect George Burrows who designed many homes in the Shaker Heights area. While the couple loved the architectural style of the home, almost everything in the home was original and improvements for modern living were badly needed.

Our Challenge:
Our charge was to reconfigure and remodel spaces to accommodate today's way of living and create a new contemporary feel that fits the home and family's style. And we needed to accomplish this while respecting the architectural integrity of the home.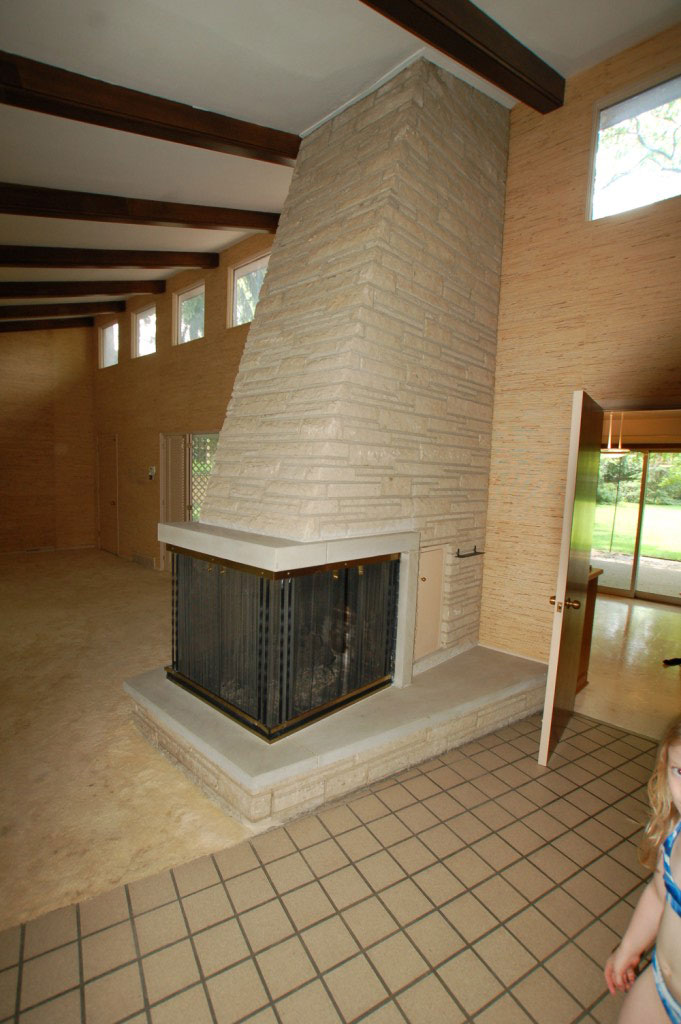 Our Solution:
Hurst created better circulation and traffic flow in the kitchen and dining areas, by removing the wall between the two. We removed the peninsula in favor of an island. The open shelving around the large range and hood added to the spacious feel of the new kitchen and the contrast of the shelves against the white backsplash tile create a natural focal point. The materials that were chosen for the kitchen create a theme that is carried throughout the rest of the home—similar flooring, bamboo cabinetry and concrete countertop materials are used in the bathrooms and other living areas. Glass and round penny tiles were also used to add beauty and detail throughout the home.
The Results:
In the end we created a beautiful modern home that honors its past and is a reflection of the homeowner's style and they way they live. This project was selected as a NARI Contractor of the Year Award winner and this client is currently working with Hurst on additional remodeling projects today.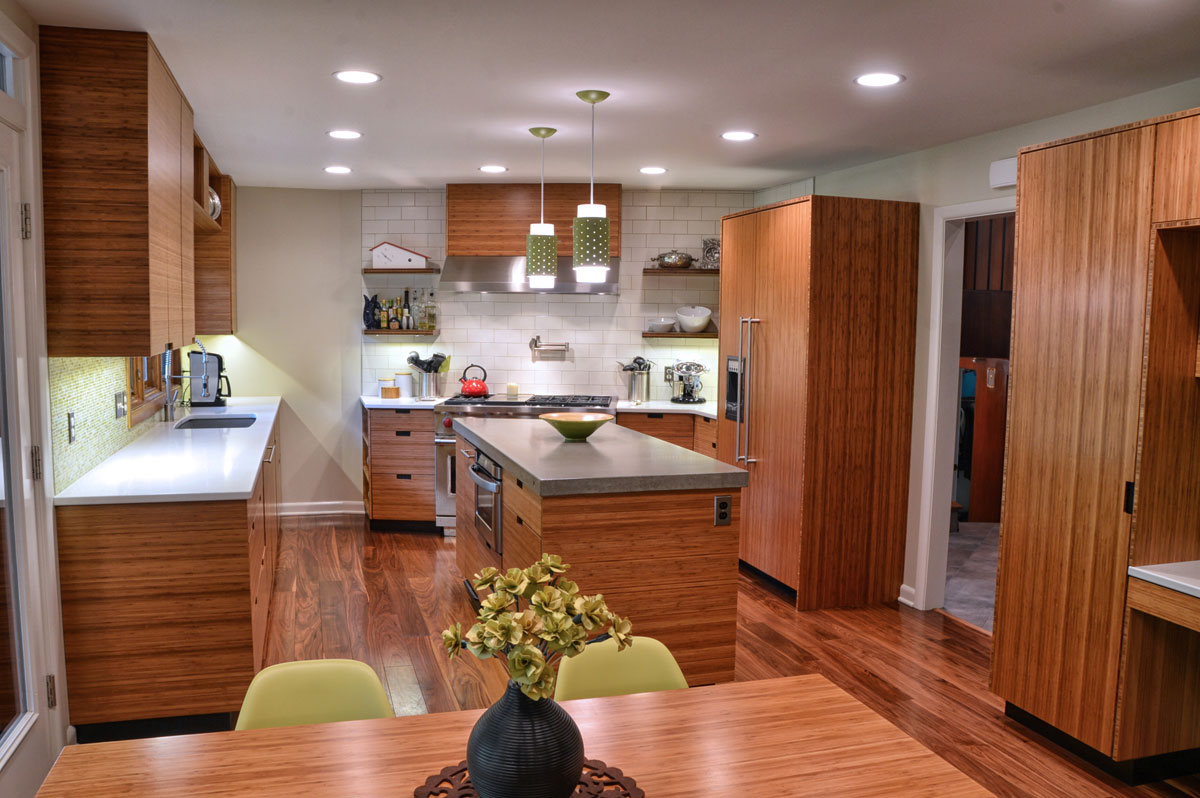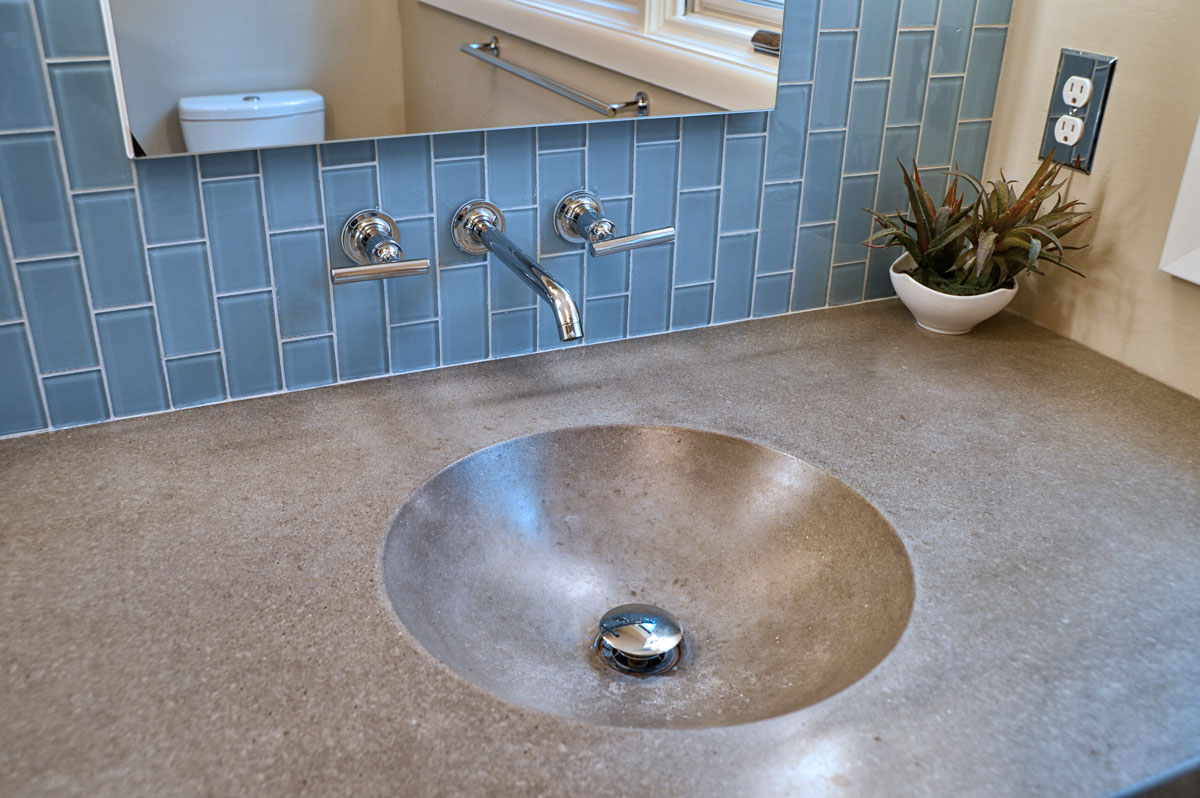 View the full Before & After gallery for this home remodeling transformation.
The Review:
We just wanted to let you now how pleased we are with the completed home renovation projects. This was a very large project we undertook, and one we took our time in selecting and hiring the right contractor for. We read about the different types of contractors and decided a design-build contractor would best fit our needs.

We think the extra time you and Bridget spent with us during the Design phase was critical to the success of the project. Both of us were having difficulty envisioning how our home would look, but your computer design drawings and renderings helped us with that vision. We knew we loved a certain look with what we have seen in our travels. We really felt listened to and part of the design team during the project.

Mike, the lead carpenter, was great to work with on the project. He has a tremendous attention to detail and quality in every aspect of the work. The whole crew under his direction did a great job. Mike worked like it was a project being done on his own home.

All the trades take great pride in their work and are evident in the fine craftsmanship and extra steps taken with the details for the project. The whole process followed the timeline you presented to us at the onset, and the project cost was very close to the budget we had originally set for the project, other than the remodeling fever we caught and adding the girls bathroom into the project.

Based on the professionalism, creativity and quality your company provided, we will indeed be using Hurst Remodeling again in the future and would not hesitate to recommend you to others.

– Garyn and Christine