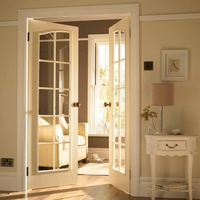 Nothing makes a home more beautiful than natural light. Studies have proven that sunlight can have a positive impact on mood and well being. So if you live in the Cleveland area or anywhere in Northeast Ohio what can you do to bring more sunlight into your home?
If you are considering remodeling think about your home's exposure. A southern exposure is what many people desire for a home in this region. If you are adding a kitchen addition or sun porch with lots of windows, the Southern façade of your home may be ideal to help bring sunlight in for the longest part of the day. It also can help warm the home in the winter or even melt the snow off the porch and walkways. On the flip side a Southern exposure can mean higher air conditioning bills in the summer.
Another solution is adding windows or glass doors to any dark rooms and not covering them with dark curtains or blinds. If privacy is a concern, consider transom windows high up on a wall or etched glass. Removing a wall between a sunny room and a dark room can change the whole look and feel of a home and help share the sunlight. Mirrors placed strategically to reflect light from the outside can help brighten a room, hallway or even a stairwell.
Consider your trees and landscaping. Trees and shrubs add natural beauty, wind blockage, and help regulate the temperature of your home in the summer, but are they blocking all of your light? If so, have a few trees removed or strategically pruned to let the sun shine through.
Instead of closing off a home office or other space with a solid door, glass interior doors can add a light open feeling. While nothing compares to natural light adding new lighting fixtures and new 'natural light' light bulbs can bring a feeling of warmth and cheer. A great remodeling plan needs to think beyond the walls and windows and take into account the mood of every space. Dark warm spaces are great for a den or cozy bedroom, but warm cheerful kitchens and family rooms can make even a cold Cleveland winter home happier.