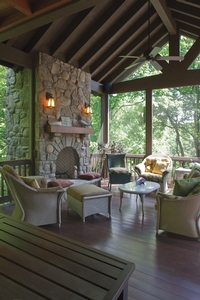 Time away from home can be a great time to think about ways to improve your home's style. Vacations offer endless opportunities for home remodeling inspiration. Whether it's a high-end hotel room, a relaxing porch on the coast, a rustic stone fireplace at the ski lodge, or the beautiful blue of the Caribbean, stylish designs and natural details offer inspiration we can pack up and take home.
So why are we more open to new ideas and inspiration on vacation? For one thing, we are typically more relaxed and happy when we are on vacation and we want to take that feeling home with us. Another reason is we often encounter beauty on vacation and we slow down long enough to appreciate what we see. The styles and settings can inspire us to make some changes to our own homes.
How do we bring that beauty home with us and translate it into a quality home remodeling project that will make sense in Northeast Ohio? Here are few tips from the design and remodeling experts at Hurst Design-Build-Remodeling.
Take Pictures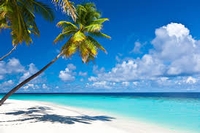 Beyond all the family shots you take when you are on vacation, take a few shots of the details that you would love to emulate back home. Maybe it's the bathroom tile, the lighting, a wall of windows, a paint color, or even the mahogany bar from the hotel lobby. Capture images of anything that can inspire your home remodeling project. Some resorts may be able to tell you exactly what paint colors or textiles they used or where to find certain design elements. The more details you can provide to your remodeler the better your results will be.
De-Clutter
One reason we love the way hotel rooms look when we first arrive is because there is no clutter. So start by de-cluttering at home. This is a simple way to bring some of that stress-free living home with you. If you can edit some of your decorative items, photo frames, mail piles and other junk, you are taking your first step towards a hotel inspired bedroom and the same rule applies to every room of your house.
Don't Over Do It
If you are at a lake house enjoying some fishing or sailing you may be tempted to bring that nautical theme home with you. Don't over do it! Bring home some of the things that have inspired you, a navy blue fabric, some rope detailing or textures, weathered wood pieces or  a beautiful piece of art inspired by sailing are all great touches. If you fill the room with every nautical piece you can find you will overwhelm the space rather than creating a subtle reminder of a great vacation.
Pay Attention to Scale
Remember that bathroom design you are falling in love with may be twice as big of a space as you have at home. You can still emulate many of the design elements in your own bathroom, but you may not be able to get that open spacious feel without building an addition. Working with an experienced remodeler you can capture the look and feel of a space you love and make it work in your own home.